Landscape Curbing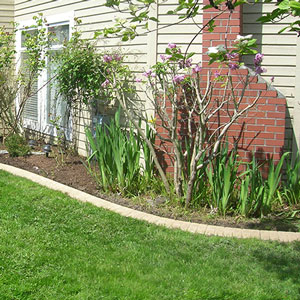 Transforming a home's appearance can be as simple as adding decorative concrete borders between garden beds and lawn. Not only do they add street appeal and value to your property but it makes for ease in maintenance with a mowing edge for the mower and a barrier to keep your chosen garden decoration in the garden. Pacific Edge Landscape Solutions offer many colours and finishes giving you the opportunity to create a one of a kind look when taking your yard to the next level.
With 20 plus years of experience in the industry and former General Manager of Kwik Kerb Edgemaster Corp, Don Regeling was responsible for the training and development of over 550 curbing business owners throughout North America who have contributed to over 1000 miles of curbing throughout Canada and the US. This experience in manufacturing extruded curb on site is complimented by excellent project management skills and an acute sense of the importance of customer service.
Advantages of Concrete Landscape Borders
The perfect long term solution extruded on site to follow any curves and design

Colours and patterns can be chosen to match the existing finishes on the home and garden

A stay in place solution for ease of mowing and separating garden from creeping grass
Installing Landscape Borders

A design layout is spray painted on the areas to be curbed and adjusted where necessary

A sod cutter is used to create a trench for the curb to be extruded into, keeping it at grass height

Concrete is now mixed on site and loaded into wheel barrows in preparation for laying the curb

The concrete is now loaded into the extrusion machine fitted with the selected curb shape

The curb is produced by the machine compacting the concrete as it is steered around the contours

Any imperfections are hand trowelled to ensure a smooth and level product

The base colour is then applied to the surface of the curb creating a smooth durable surface

Secondary colours can be stamped into the base colour giving a slate and brick pattern look

Expansion joints are cut into the curb to control cracking and a concrete sealer is applied
Frequently Asked Questions
If the curb is laid on a firm surface and control or expansion joints are cut into the curb, the chance of cracking is negligible.
With the strength of mix used and the Colour Hardener colouring process used, the curb will last for many years. The seal coat should be redone periodically to refresh the colours.
How long does it take to do?



Depending on the size of the project most applications can be completed in only one day.
Will I be able to mow up against the curb?



Yes, the curb is designed as a mowing edge and even the wheels of a ride on mower can ride on top of the curb without fear of cracking it.
Examples of our work can be seen under our Landsape Curbing Portfolio.