Speed Bumps, Parking Curbs & Bollards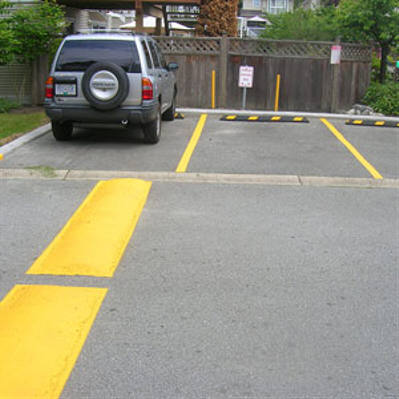 Most of us use parking lots daily, and so the tendency is to take safety in these areas for granted. It's often believed that because we are traveling at such low speeds in parking lots, accidents are unlikely to occur. This is absolutely wrong! Statistically, they are one of the likeliest places for fender benders. Parking lots are a significant liability risk for personal injury and automobile property damage.
Pacific Edge Landscape Solutions Inc. provides a number of parking lot safety solutions that mitigate these risks. These include rubber/plastic speed bumps, rubber wheel stops, parking curbs and bollard covers.
Recently we have been recommending to our customers to take a good look at the rubber/plastic solutions instead of concrete for wheel stops and speed bumps. We have found them to be cost effective solution for the following reasons:

More Affordable to install than asphalt or concrete equivalents (less labour / time required)




Lower freight costs (lightweight product)




No heavy equipment needed to install product means a cleaner and quicker job.




Minimises possible damage to vehicles with a car-friendly design: will not damage tires or scratch bumpers.




Easy-to-Install: Can be done in rain or shine




Highly Visible: products include in-molded reflective highway tape, great visibility especially at night.




Warranted: all Pacific Edge's products are covered under warranty




Flexible design: products conform to any road surface.




Easy to Relocate: products can be used for temporary or permanent use; can also be moved or relocated if necessary.



Our ready-made recycled rubber road safety products are designed to reduce speeds and protect vehicles and pedestrians from potential damage and injury when driving and parking.
Pacific Edge will attend to your site, analyze and document the requirements and provide a comprehensive proposal and quote for installation of the recommended solution. Pacific Edge has over 20 years' experience in the parking lot maintenance business. We take pride in our reputation for service and quality.
Call Pacific Edge to discuss your requirements at 604-838-1400 or complete our Line Painting & Curbing form and we will give you the benefit of our experience.
To see examples of our projects, please go to our Road Safety Solutions Portfolio